Bhutanese Innovators, the US State Department, and Food Entrepreneurship
The drive of a true entrepreneur knows no boundary, let alone country line. Union Kitchen had the pleasure of hosting 4 Bhutanese innovators through the GIST program, where we delved into what it means to be a successful food entrepreneur.
Since 2011, the GIST Program has reached over 27 million innovators globally, in countries from Costa Rica all the way to Fiji. GIST works with over 130 countries and is responsible for 15,000 start-up mentorships. GIST Partnerships include AWS and Microsoft.
Bhutan, a small country sandwiched between China and India, sent four innovators in partnership GIST and hosted the U.S. Department of State to learn more about American entrepreneurship. After a week of workshops with some of D.C.'s strongest entrepreneurs, the innovators pitched their presented their final pitch deck to the U.S. Department of State.
Our innovators were hosted at our Union Kitchen Ivy City location, where we toured the facility with the GIST innovators. During our tour, we highlighted all of our food safety standards, our innovative kitchen members, as well as our Accelerator brands who produce and manufacture their CPG product in our facility.
We shared a presentation about our Accelerator program. In the Bhutan innovators groups, an entrepreneur's brand was a chip she sold locally in Bhutan. Our discussion centered around launching and scaling her CPG product to reach all sorts of consumer from regional, to national, and beyond. We highlighted some of our Phase 3 and Phase 4 brands, including sampling some of our favorite items like Green Island Bakery, Susosu water, and Ruani brownies.
It was lovely to host our friends from GIST and the Bhutanese Innovators! We wish them all the best in their entrepreneurial endeavors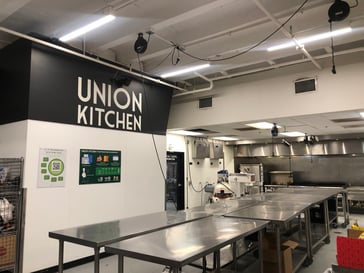 .