Ready for Product Launch?
Food Business Accelerator
/fo͞od/ /ˈbiznəs/ /əkˈseləˌrādər/
A company that speeds up the process of launching and scaling a successful food business.
What does this mean for you?
We're ready to dig in.
Union Kitchen empowers food founders with our ecosystem, roadmap, and expertise from launch to scale. T
hroughout each phase, Accelerator members leverage
group sessions, one-on-one coaching, and online courses to accelerate your growth.
Our Accelerator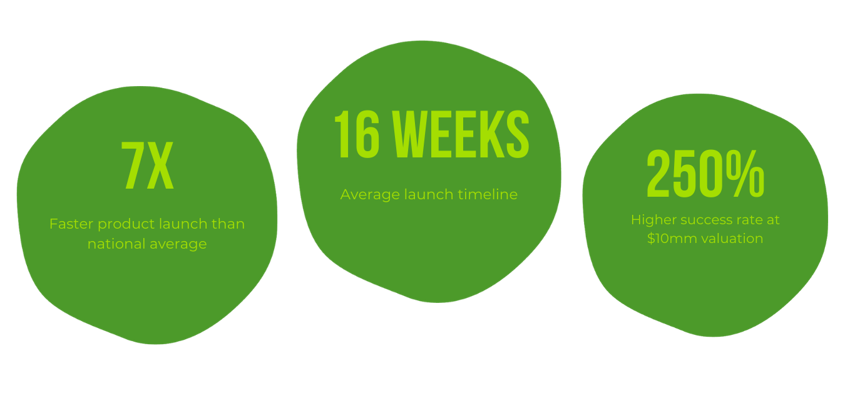 Love on demand courses?
As an Accelerator member, you'll gain access to our library of on demand courses. Anytime, anywhere, check out topics like packaging, product formulation, marketing, and finance.
Hear from Compass Coffee, Snacklins, and Mas Panadas Founders
How to Apply
1. Discovery Call - let's get to know each other!
2. Tour of Union Kitchen - check out the place where we build successful food businesses.
3. After the tour, submit the following:
- Sample Pitch Deck
- Introductory PMP Video
- Product Samples
Member Testimonials
Samy
Founder, Snacklins
We made this crunchy, puffy, almost pork rind-like chip and as we got bigger, we realized this has legs, and we got to get somewhere legit. And that's when Union Kitchen came on and they not only gave us a space to work out of but they also helped us with guidance and building the infrastructure that you need to start a company. It's not just cooking oddly enough.
Margarita
Founder, Mas Panadas
When I first started this, I thought I can go and lease a space and have my kitchen there. And I looked online found Union Kitchen and met up with them and the rest is history. Having the Accelerator program, the certified kitchen, the distribution, the grocery store, it means you have all the pieces to go from developing your idea to actually trying it on shelves with the least amount of risk and least amount of investment. That's the way to do it.
Michael and Harrison
Co-founders, Compass Coffee
And we hear about Union Kitchen and we're building out our first cafe. And Cullen is starting to explain that there's products that they are making that they could sell to us. That's really the beginning of our relationship with Union Kitchen is we're buying fresh baked goods from Union Kitchen, we're buying snacks. ...we'd rather support local businesses with people that we know.
Daniel
Founder, Berg Bites
Something we love about working at Union Kitchen is that we get to be directly in touch with customers and consumers, we get to take their feedback and directly iterate it and then put it into our production and processes. Union Kitchen is all about building a local community and providing small batch locally crafted food and beverage.