When Should I Start Attending Trade Shows?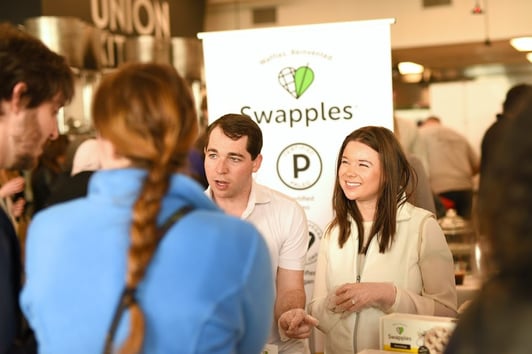 Have you ever wondered what a trade show is and why it might be beneficial for your CPG business? If so, you are in the right place! In this knowledge article, we will cover what a trade show is, the different types of CPG trade shows, what you should know before you attend a trade show, and the pros and cons of trade shows.
What is a Trade Show?
A trade show is an event held to bring together members of a particular industry to display, demonstrate, and discuss their latest products and services. Trade associations of nearly every industry sponsor trade shows to build buzz and excitement while bringing key players within a given industry together to collaborate and learn, capture new customers, and view what's upcoming and trending.
Trade shows are somewhat of an elusive event, meaning that it is not typically open to the general public to attend. Those who are able to attend the event are members of the press, company representatives, and top professionals within the specific industry that the trade show is focused on. Attendees are granted access to the latest products, special pricing, and valuable insights regarding the state of the industry, while companies exhibit their new products, are given valuable time to build relationships, engage with the press, build their brand awareness, gain leads, and close deals.
What is a CPG Trade Show?
Within the world of consumer packaged goods (CPG), trade shows function to help build brand recognition, gain shelf space, and sell more products. With the right exhibit design, any company can stand out at the big CPG trade shows like Natural Expo East and Consumer Discovery Show East.
CPG trade shows occur year-round giving companies plentiful opportunities to showcase their products. Key CPG trade shows include:
AFFI-CON is the premier business event for frozen food and beverage makers, industry suppliers and logistical partners. Year after year, AFFI-CON brings together 600+ companies and 1,500+ attendees, creating the space and time for them to meet one-on-one to discuss current and future business needs. AFFI provides the tools needed to make connections, secure business meetings, network, and attend education sessions focused on timely business insights for the frozen food supply chain.
PACK EXPO offers the latest solutions for retailers and consumer packaged goods from over 400 exhibitors, as well as educational seminars and learning centers featuring the latest case studies and reports.
PROCESS EXPO is dedicated to the latest technology and solutions for the food and beverage industry. Attendees can take advantage of over 25 hours of education and training on food safety, trends, and leadership, as well as prime networking opportunities with 15,000 industry professionals.
At SupplySide East, you'll have the opportunity to connect with 290+ exhibitors featuring the most innovative ingredients and formulation techniques to drive your brand forward. You'll also gain insight and network with the leading health and nutrition industry professionals from across the globe.
The Sweets & Snacks Expo is a can't-miss event for thousands of confectionery and snack retailers, manufacturers and suppliers for a reason – here you'll find all the product innovations, insights and industry connections you need to build a world-class in-store or online experience that will delight your shoppers
What to Know Before a Trade Show
Before you attend a trade show, there are a few things you need to know. In order for your company to get the most out of the trade show, it is important that you set clear goals for your trade show participation.
How will you attract attendees to your booth? What makes you and your product different from competitors? How will you pitch your product? These are all questions that you should be thinking about and strategically answering.
It is also important to plan your budget. Trade shows, especially when they occur in a far away city, are costly as you will need to pay for transportation to and from the show, hotel accommodations, and your booth slot at the trade show. These costs tend to add up quickly, so be sure to have a financial plan in place.
When to Attend a Trade Show
The best time to attend a trade show is when your company is late in Phase Two or in Phase Three, meaning your company is making around $150,000 to $1,000,000 in yearly revenue. This is largely in part because companies need to have national distribution in place to support the rise in sales.
Pros & Cons of Trade Shows
Pros of Attending Trade Shows
Raises Brand Awareness
Some of the largest CPG trade shows feature more than 14,000 buyers and suppliers, and over 1,200 exhibitors. But no matter what size they are, most trade shows offer business participants opportunities to get their names in front of attendees beyond simply signing up for a booth.
Cultivate Business Relationships
Many high-profile individuals within the industry attend trade shows as a means of keeping tabs on the latest trends.
Generates High-Quality Leads
If your purpose is to generate high-quality leads at the event, one of the best tools in your arsenal is your sales and marketing collateral. These items—including flyers, brochures, folders, business cards, and more – say a lot about your company. How you package the content makes an important first impression that could determine if prospects will read the materials.
Learn About the Competition
"Walking the show" is a time-honored trade show tradition. When you attend, take the time to walk through all of the displays in the exhibit hall to see what your competitors are doing and what trends are emerging.
What kinds of promotions are your competitors' advertising? Who are they targeting? What kinds of displays are they using, and which visual elements are most prominent? Not only can these kinds of observations inform your future booth experiences, but they can also provide valuable insight into what your customers need to hear from you.
Cons of Attending Trade Shows
Stall Price
The problem? Most of these perks come with price tags that aren't exactly small business-friendly. Some argue a better solution for small companies is to look into opportunities to give presentations or take part in panel sessions. Not only are you likely to get free tickets for doing so, speaking at an event can help you build brand awareness and position your business as a leader in your space.
Trade shows occur all over the United States and beyond, meaning you might have to travel to attend the trade show. Purchasing a flight to and from the venue, a hotel, and the booth space can quickly add up.
Unknown Effectiveness
Trade shows make it somewhat impossible to measure the marketing return per dollar spent. There are also reports that say 6-75% of attendees do not buy anything at these events, despite being offered a plethora of value-adding services.
Not a Sound Marketing Tool
There is a growing feeling that trade shows are more of a "perk" for managers and current customers than a sound marketing communications tool.
No Longer Relevant
Some argue that trade shows are no longer relevant due to the dominance of online marketing tools. There are a lot of other cost effective ways to market your products through social media, targeted ads, and other digital marketing strategies.
Altogether, attending CPG focused trade shows has its perks and disadvantages. If you believe attending a trade show would be beneficial for your company and products, make sure to plan ahead and think strategically about what you specifically want to get out of the show.