Accelerator Member Spotlight: Cured and Crisp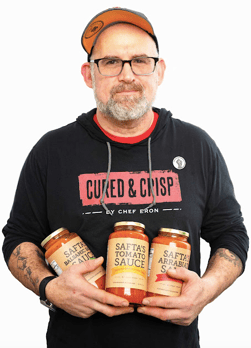 Learn more about the story behind
Cured and Crisp
and Eron's journey of transitioning from being a kitchen chef to an entrepreneur!
Introduce yourself and tell us a little bit more about you. What is your passion behind your business?
I'm Chef Eron and I've got a passion for yummy food. I've been working as a chef for almost 30 years. At cured and crisp, we are taking two everyday foods and making them better. Better bacon and better tomato sauce.
Did you always know you wanted to start a food business?/What did you think you wanted to do professionally?
I've been working in restaurants since I was 16 years old, so whether I thought I wanted to or not, this has been what I have done my whole life.
Why did you start your business?
I started curing and smoking my own bacon for catering events and my clients all wanted to know how they could get their hands on my unique flavors of bacon, so I launched Cured and Crisp
.
What did you do before starting your business?
For the ten years up until the 2020 covid shut down I ran an organic hot lunch program that I created at the Washington Waldorf school, in addition to being the Chef Owner of Foxhall Catering.
What convinced you to take the plunge?
Being a chef is labor and although I love making food, I needed to figure out a way to move off the kitchen floor.
What do you like about food?
There is no possible way I can answer this question in one sentence other than I Love Food.
What drew you to the food industry?
There are a whole series of events that lead me to making food professionally. Three things come to mind My Safta, Mrs Johnson and Community service.
What's the biggest challenge you've faced to date?
It's very difficult to stay centered and nimble in both mind and body while emotionally and financially invested to the max in products and process. However I must. Also, getting past all of the
industry

gatekeepers

.
Has anything surprised you about starting your food business?
Ask me and I'll tell you what is surprising in this moment.
What's been the most exciting part of starting your food business?
Filling the next biggest purchase order has always been the most exciting thing or maybe leaping over what appears to be impossibly tall hurdles.