Product launch: Et Oliva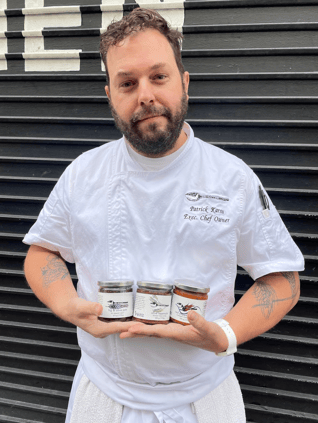 Looking to liven up your next dinner party? Patrick Karsu, CEO and Founder of Et Oliva, started his turkish-inspired tapenade, spread, and jam business in hopes of creating community through mezze-style meals. One of Patrick's favorite activities is cooking for friends and family. Because his partner is from Turkey, he draws inspiration from mezze - a Mediterranean and Middle Eastern style of dining that incorporates small plates composed of hot, cold, vegetarian, and meat items meant to stimulate your appetite. All of his favorite food memories include staying up late catching up with friends and family, drinking a delicious bottle of wine, centered around a plethora of mezze.
So, how did this experience translate to the launch of Et Oliva? Well, a few years back, Patrick was pursuing a Master's degree in Art History. This experience was a wake up call for Patrick as he realized his passions and interests no longer resided in this industry. When searching for a new career path, he realized food was what energized him most. So, he enrolled in culinary school where he learned how to prepare classic French cuisine. After receiving his degree, he worked on both sides of the country in primarily fine dining restaurants where he trained under several highly experienced chefs.
Patrick eventually landed on the East Coast. Once here, he decided to return to school yet again to receive his Master's in Business Administration from George Washington University.
After the completion of his degree, he was primarily working as an accountant while also developing his mezze favorites after hours. However, when the pandemic hit, he realized time was passing him by - he needed to take the plunge and pursue his food business full-time.
Patrick joined Union Kitchen's Accelerator program in October of this year and has already launched three delicious products: the olive tapenade, the roasted red pepper spread, and my personal favorite the olive and fig jam. He chose these three Mediterranean-inspired products in hopes of providing consumers with approachable flavor combinations that pair perfectly with products like Manchego cheese, buttered bread, and cured meats.
What has surprised Patrick the most about owning and operating his own food business is the plethora of hats he is forced to wear. Because he has just recently launched, he is his only employee meaning he is in charge of the company's manufacturing, marketing, accounting, and more. However, Patrick's diverse array of education and experiences have prepared him to tackle both the food production and the financial aspect of the business.
In the future, Patrick hopes to make Et Oliva a destination brand, meaning he would love to own and operate out of his own olive grove. Through this branding method, he plans to curate community gathering spaces that mirror the very same experiences that inspired him to pursue food.
You can find Et Oliva's three olive products at Dent Place Market and your local Union Kitchen store!