Product Launch: 1790 Coffee Introduces its Ground Coffee
While living in Mexico, the De La Peña Gonzalez family quickly fell in love with coffee. They especially loved the chocolate and nutty notes that are unique to Mexican specialty coffee. When they moved to Washington D.C, the De La Peña Gonzales' realized there was a gap in the US marketplace - there was no high-quality Mexican coffee to be found! This is when they decided to launch 1790 Coffee in 2019.
1790 Coffee first launched with three flavors of whole bean coffee. Between their initial launch and present day, the De La Peña Gonzalez family has been gaining consumer feedback on their products through demoing in stores.
Sebastian specifically recalls "observing customers grabbing the bag of coffee, and as soon as they realized it was whole bean, they would steer away from it." It was through these conversations and experiences with customers that the 1790 team realized many consumers do not own or have access to a coffee grinder to ground their whole beans. This is when they decided to launch their ground coffee in 2022.
When asked about the new ground coffee, Sebastian said they are crafting it to meet the needs of the everyday consumer. This ground coffee removes a step in the coffee making process and is therefore more time efficient and simple for consumers looking to quickly prepare their favorite morning ritual.

Another challenge they faced was how to distinguish their ground coffee packaging from their whole bean. Since the flavors remained the same across the board, the 1790 team had to strategically think about how consumers would best differentiate the two types of coffee. The solution? A callout on the front side of the packaging for customers to quickly tell the difference between whole bean and ground coffee.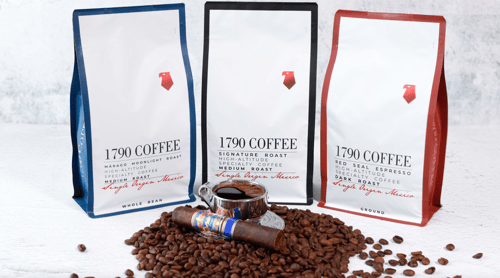 Both their whole bean and ground coffee offerings have the same flavors. So, whether you like to buy whole beans or grounded beans, 1790 Coffee has you covered! The Márago Moonlight Roast is a medium roast with notes of chocolate, malt, and almond. The Signature Roast is their most popular flavor which is a medium roast with notes of graham cracker, milk chocolate, and orange. And lastly, the Red Seal Espresso is a dark roast with notes of orange, milk chocolate, and brown sugar.
To find 1790's specialty Mexican coffee, go to your local Union Kitchen store and several other retailers in the DC area.