Pinsa.Love releases a 14 Inch Pizza!
Jordan Fainberg, Founder of Pinsa.Love, has a clear passion for pizza. A few years back, Jordan made a pilgrimage to the town of Massa Marittima in Tuscany to learn how to make artisanal pizzas. While there, he discovered Pinsa, a unique pizza dough that ferments for 72 hours. He spent a year perfecting his recipe and technique and thought his pinsas's would be a great addition to the frozen pizza aisle in the States. This was when Pinsa.Love was born.
Pinsa.Love is re-launching a series of pinsa's for eager consumers. The flavors include Classic, 5 Cheese Carbone, Artisan Pepperoni, Foresta, and Pesto & Wild Mushrooms. After revamping his packaging to make his designs match the caliber of product encased in them, Jordan is excited to get his Pinsa's back on Union Kitchen shelves.
And that's not all! Jordan has also introduced a completely new product line to PInsa.Love's offerings! The new product, Real Stone Fired Pizza, is a more traditional style pizza comparable to something you would get at your favorite local pizzeria. At 14 inches in diameter, this Real Stone Fired Pizza is foldable, shareable, and perfect for eating with a couple of friends.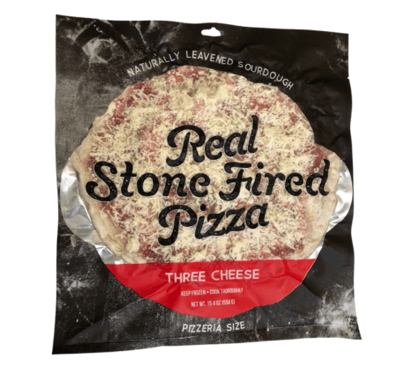 So, what makes Real Stone Fired Pizza's dough different from Pinsa's? Unlike Pinsa dough which has much higher hydration (85% water to flour ratio), huge air bubbles, and a fermentation period of three days, Real Stone Fired Pizza is a much more traditional neapolitan style dough. Because of this, Real Stone Fired Pizza has lower hydration (closer to 50% - 60%) and is a simpler dough to produce.
Despite the supply chain issues in the food and beverage industry, Jordan was able to receive his packaging, source his ingredients, and produce his pizza's in a timely manner for his consumers.
When asked about the future of Pinsa.Love, Jordan said his main goal for 2022 is to work with a larger distributor in order to get his pizza's into more stores. He believes this new addition of Real Stone Fired Pizza will be a huge hit as distributors and retailers have been asking him to make a more traditional-style pizza.

You can find Jordan's Pinsa's and Real Stone Fired Pizzas at Union Kitchen stores!