Keep it Spicy With Farm + Muse's Debut Seasonings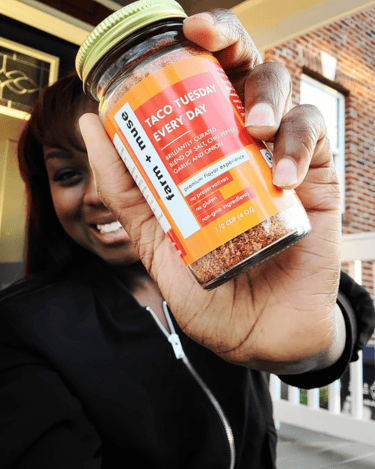 Regina Watson, founder and CEO of Farm + Muse, first fell in love with food, flavor, and its ability to bring people together while studying abroad in Spain. While there, Regina stayed with a host mom who generously cooked for her every night. She experienced firsthand how her host mom was able to spice up a simple dish with just a few ingredients and began to recognize food's power in celebrating different cultures.
As Regina explains, "It fascinated me how simple the recipes were, but how much flavor there was in each bite. It showed me that a sprinkle of salt and pepper can do wonders... The simplicity of the cooking from the host families in Spain left a big impression on me." Realizing it doesn't take much to create a flavorful meal, Regina set out to save the world from dull, boring food through curated, specialty seasoning blends that promise to excite any taste buds. This is how Farm + Muse was born!
After her world travels, Regina spent time working in restaurants and, during the COVID-19 pandemic lockdown, yearned to find a way to stay connected to the food industry. She got to work launching her line of all-purpose seasonings in the hope of helping people maintain their love for cooking and flavor during the trying times of the pandemic.
Packed with quality, locally-sourced ingredients, the blends are meant to help consumers relate to the unique food and culture experiences that Regina tapped into during her world travels. Regina is launching three flavors: Taco Tuesday Every Day, Head Garlic in Charge, and Veggies Tell it All.
Taco Tuesday Every Day is a delicious, Mexican-inspired seasoning intended for grilling, roasting, sautéing and more. Packed with a perfect balance of salt, garlic, chili, and herbs, Taco Tuesday pairs well with any dish, but especially tacos. And who doesn't want to pass up the opportunity to eat tacos every day!
The Head Garlic in Charge is a wonderfully crafted blend of garlic, sea salt, onion, and red bell pepper. It's Farm + Muse's most popular seasoning and can truly be used on anything—meat, fish, veggies, salad… you name it!
Lastly, Veggies Tell it All is a vibrantly curated mix of salt, pepper, oregano, basil, lemon, and cumin. This spice pairs well with any and all veggies, no matter their preparation.
Through Farm + Muse, Regina hopes to spread the joy of experiencing flavor, celebrate different cultures' culinary traditions, and preserve the socially binding power of cooking and sharing a delicious meal with others. When looking back at her product launch journey, Regina highlighted the importance of persevering in the face of adversity. She wisely puts it, "There are so many times that you don't see the outcome you dreamt, at least not right away. There are times when you get a lot of 'No's' and a lot of rejection… if you just stay consistent, keep your vision at the forefront of what you want to do, then no matter what roadblocks come your way or how the winds turn … you [will keep] moving in the right direction."
Farm + Muse's array of curated flavors will not stop at her first three seasoning blends—Regina is currently working on recipes for new seasonings, and can't wait to eventually introduce them to the market as well. But for now, try Farm + Muse's three new flavors—Taco Tuesday Every Day, Head Garlic in Charge, and Veggies Tell it All—available at Union Kitchen and other stores near you!