Catching Up With Revol Snax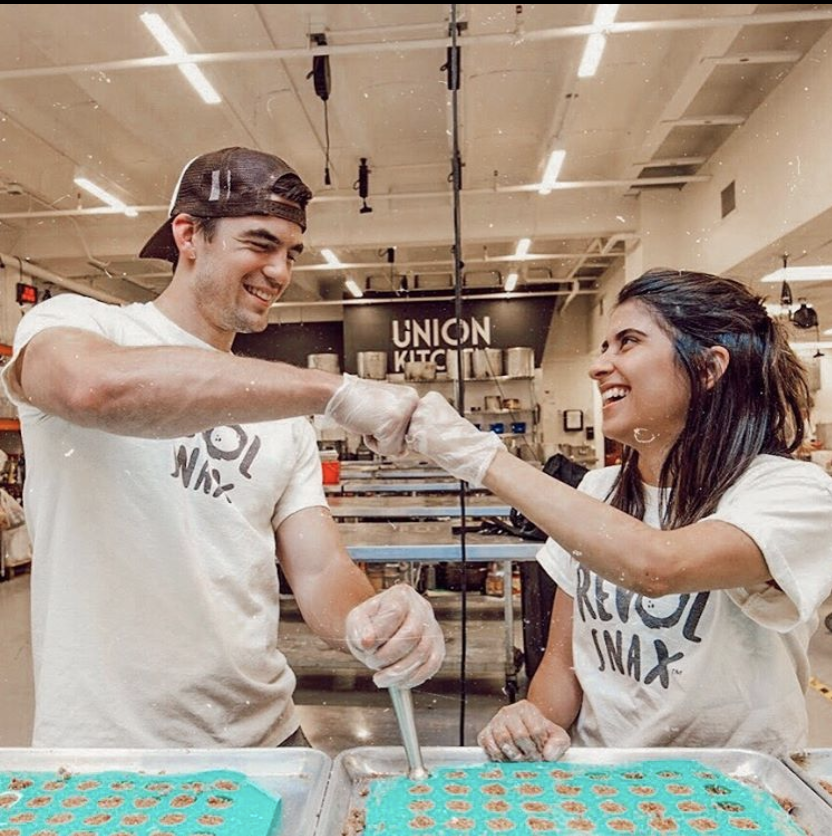 It all started when two lifelong athletes couldn't find the healthy snacks they wanted on grocery store shelves. Nadine Calderon was training to become a yoga instructor and Dave Birsen was working as a biomedical engineer for the FDA when they met in 2014. Quickly bonding over their shared passion for food and nutrition, they noticed a lack of keto-friendly yet indulgent snacks on the market. They started experimenting in their own kitchen and Revol Snax was born.
Since launching their nut butter filled coconut bites in 2018, Revol Snax has expanded their product offerings to include decadent nut butters and additional flavors of coconut bites. They also made environmental sustainability a core value of their brand's mission through ingredient sourcing, eco-friendly packaging, and carbon emission offsets.
We caught up with Nadine and Dave to hear about how things have changed for Revol Snax since the very beginning.
Tell us a bit about where Revol is now.
Revol Snax has grown through e-commerce and we now have customers in every state, but most importantly thousands of repeat purchases and loyal fans. We are currently fundraising a one million dollar seed round to support our retail growth.
What is the greatest milestone you have achieved to date?
Our greatest milestone is celebrating our third year in business and continuing to serve an expanding customer base.
Has your mission changed since you started? If so, how?
As we've learned more about environmental challenges, sustainability has become a larger part of our brand mission. We've committed to sourcing 100% plant-based ingredients, eco-friendly packaging, and allocating a portion of our revenue to carbon offsets. We continue to focus on serving clean, keto, delicious snacks alternatives to our consumers.
What do your roles look like now versus when you started Revol Snax?
Our roles have evolved from working in the business to working on the business. That means we hired a team and spent more time managing, leading, and advancing Revol Snax towards the next stages of growth.
Talk us through the process of changing your manufacturing from tabletop to batch. How did you know when it was time to scale your manufacturing?
This is one of the most challenging, important, and rewarding aspects of running a food business with owned manufacturing. We made a lot of mistakes when trying to scale our recipe. Persistence and asking for help when needed ultimately helps us accomplish this. Once we had enough sales to make a full-time shift we knew it was time to scale production.
In growing your manufacturing, you also have had to grow your team. What has that been like for you?
We learned how important the first couple of hires are to the business. These initial hires are the difference between adding more problems to your business and freeing up space to work on new opportunities.
What does owning your manufacturing mean for your brand? Can you share an example of how this has provided advantages for the Revol team?
Owning our manufacturing has allowed us to differentiate our product from others on the market. We've been able to incorporate customer feedback more quickly into product improvement.
How has your approach to sales changed as you've moved from local to national markets?
Our approach hasn't changed too much. We've always focused on the specific problems we are solving for the consumer, which exist no matter where our product is being sold.
What has your experience working with distributors looked like?
Distributors are a necessary part of growing your retail business, but it's important to set expectations appropriately. Most distributors are not going to make sales for you, so you really need to sell into the retailer yourself and have a plan to support growth.
How has your approach to raising investment changed from when you first launched Revol Snax?
When we first launched Revol Snax we were overconfident we could scale our business without requiring outside investments, we underestimated the difficulty in generating substantial profits as a small upstart food brand. We now recognize raising investment as a fundamental requirement in taking a CPG food brand to nationwide retail.
What motivates you to keep growing?
We continue to see a lack of high-quality, keto snack alternatives in the market, which means consumers all around the world are still struggling with either health or flavor in their snack options.
What's next for Revol Snax? What goals do you have on the horizon?
We would like to take our existing product into more markets and expand access to healthy snacking. We are also planning to expand into additional snack categories to round out our offerings.
What is something you've learned that you wish you could go back and tell yourself when first starting your food business?
It is going to be harder than you imagined but there is a ton of support from industry experts for young entrepreneurs, and the trick is learning how to leverage their expertise while remaining authentic and true to your mission.
Dave and Nadine have grown immensely since launching Revol Snax, and they're still hungry for more! They've found their product-market fit, learned the value of owning their manufacturing, and scaled their production from tabletop to batch. They've even decided to take all of that success and give back. From committing to environmental sustainability to launching new products, we can't wait to see what they do next.