Team Member Spotlight: Mo Chanaa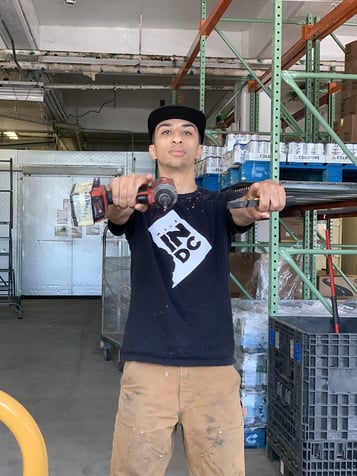 Meet Mo Chanaa! Mo is a member of our Repair team and has been with Union Kitchen for 2 years and 2 months.
Hometown: Springfield, Virginia.
Position: Manager in Training on the Repair team.
Favorite thing about working at Union Kitchen: My favorite thing about my job is being able to ride around and interact with everyone that is part of Union Kitchen on a daily basis.
Favorite Union Kitchen product and why: My favorite member product is Stone's Throw Hash for its delicious and natural ingredients.
How do you like to spend your free time?
I enjoy gardening and farming, especially my big family of sunflowers. I grow many varieties and I love to see their cheery faces every morning.
What animal would you consider your spirit animal?
My cat Pusheen because she is chubby and sassy. If she could physically roll here eyes that's all she would do.
What's one thing on your bucket list
The 5 gallon Homer Bucket from Home Depot. It has a timeless look and is very practical yet affordable.
What's one thing most people don't know about you?
I am an avid microbiologist and greatly enjoy field research into our local microbes, fungi, and other creatures. I specifically collect samples searching for Salmonella Enterica in compost piles.