Success Story: 8Myles Joins UNFI Next
Congratulations to 8Myles for being accepted into UNFI Next! Our Accelerator Members make up 20% of the UNFI Next cohort.
A UNFI Next Program Lead said, "We love Union Kitchen. This was our first round of selecting suppliers on a monthly cadence [for our UNFI Next cohort]. We selected 10 to onboard. Union Kitchen had 2 of them. I like those odds."
8Myles founder, Myles Powell, is on a mission to reinvent comfort food by prioritizing clean ingredients and key nutrients without compromising on flavor.
Born from a family of foodies and entrepreneurs, Myles has always had a love for food and a proclivity for hustle. Raised in an environment where everyone worked, Myles found that his best moments of family time were spent gathered around for daily meals. The stars of the show were always comfort food - collard greens, fried chicken and, of course, mac and cheese.
Myles has been a part of our Accelerator program since 2018 where he has launched several products like his Homestyle Mac N' Cheese, Buffalo Mac N' Cheese, and BBQ Mac N' Cheese. This year,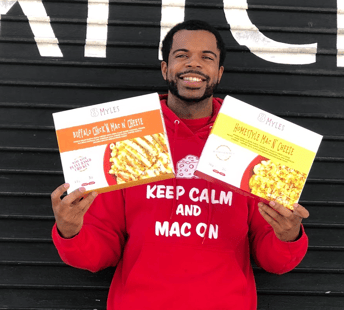 8Myles is going national, meaning his mac n' cheese will be in over 1,000 retailers across the country. By joining UNFI Next, Myles hopes to distribute his mac n' cheese to many more stores and customers.
UNFI Next curates and incubates emerging brands like 8Myles. They will connect Myles to their distribution team and help him garner more growth in retail. Because 8Myles is part of the UNFI Next program, he will receive discounted distribution prices and specialized support from the UNFI team. UNFI is one of the largest distributors in the United States, meaning this opportunity will allow 8Myles to reach more retailers and therefore more consumers.
Again, congratulations to 8Myles! We can't wait to see your continued success.