Bring Authentic West African Flavors To your Table!
Have you ever noticed how easy it is for us to find foods originating from all around the world? You can quickly find pasta from Italy, avocados from Mexico, or even coconut water from Thailand. However, some cuisines are much harder to find than others. This discrepancy is what inspired Priscilla Turkson, Founder of Gourmet Afrik, to start her very own CPG business focused on bringing West African flavors to a freezer section near you, starting with a line of delicious Jollof Rice.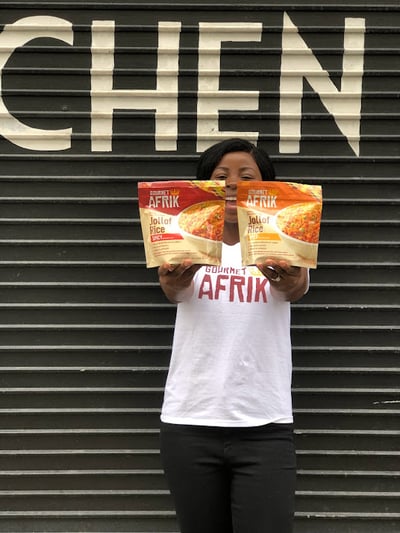 Priscilla was born in the West African country of Ghana. The people of West Africa adore the classic dish of jollof rice. You will be able to find this staple meal at any event or gathering throughout the region. There is plenty of debate amongst West African countries about which version of jollof rice is the best. Each version of the dish includes different nuances and ingredients. For example, Nigerian jollof rice usually uses long-grain rice and the cooking method differs from its counterparts. Ghanaian jollof rice usually uses aromatic basmati rice and is also more heavily focused on the tomato flavor.
Jollof rice is a dish that typically includes several other ingredients in addition to the rice, like tomatoes, onions, spices, and other vegetables. The traditional cooking process for jollof rice is long because it takes time for the flavors to meld and marinate. Priscilla started cooking jollof rice often as a way for her and her children to stay connected to their culture after moving to the United States. During this time, she experienced the pain point of the hours-long time commitment to cook the product first hand. Priscilla noted, "Jollof rice takes so long to make and has many steps, so I wanted to create an easy way for everyone to have jollof rice." Priscilla set out on a mission to develop a faster alternative that still delivered on taste, quality, and authenticity. This is when Gourmet Afrik was born.
This feat did not come without its challenges. Priscilla ran into difficulties with preparing a convenient jollof rice that contained the West African flavors that she knows and loves. To stay true to her background while also making a final product that would not take long to prepare, she took the time to use authentic ingredients and cooking methods to create a product that the consumer can prepare in under five minutes. On top of that, she wanted the product to be nutritious. She decided to implement a full serving of vegetables into the meal. This was able to be done with little issue because of Priscilla and Gourmet Afrik's commitment to owning their manufacturing.
Gourmet Afrik launched with two flavors for their jollof rice: spicy and mild. Both of these options are made with traditional Ghanian ingredients, including aromatic long grain rice, tomatoes, onions, herbs, and spices. There are no artificial flavors, colors, or preservatives.
Gourmet Afrik's jollof rice serves as a great option at any time of day, and provides you with a nutritious meal. You can find it at Union Kitchen store locations throughout DC and northern Virginia. Bring the taste of West Africa into your home today!