Team Member Spotlight: Kendall Silwonuk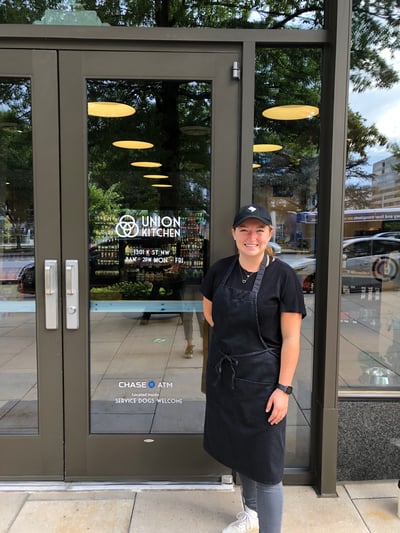 Meet Kendall Silwonuk! Kendall is a member of our K Street team and has been with Union Kitchen for one year.
Hometown: Columbus, Ohio
Position: Manager in Training at K Street

What's your favorite thing about your job? My co-workers! UK's team has become my second family, and I so look up to and adore those I work with. They are the best coaches, cheerleaders, and friends I could hope for, and all genuinely care about our customers and our products.
What is your favorite Union Kitchen product and why?
Since their launch, I have used
Cured and Crisp's
Safta Sauces
exclusively in my pasta dinners---the Classic tomato sauce is full of flavor and pairs so well with a Sunday night chicken parm dinner or some easy turkey meatballs!
How do you like to spend your free time?
My book club asked for a shout-out -- I love to read our latest picks in different parks around the city! I also teach ESOL a few days a week and like to spend my weekends hiking with my dog-nephew Arlo.
What's one thing most people don't know about you?
I trekked Mt. Kilimanjaro two summers ago; I trained for the climb on the Exorcist steps in Georgetown :)
What's one thing on your bucket list?
I would love to try cenote diving; caves fascinate and terrify me.
What animal would you consider your spirit animal?
Definitely Xiao Qi Ji, the youngest panda (and instagram star) at the Smithsonian National Zoo! He spends most of his day snacking, and when he's not falling out of trees, he seems to find joy in everything he does. I can't not smile when I watch him dance around his exhibit on the Panda Cam.