Philly Us Up With More Stone's Throw Hash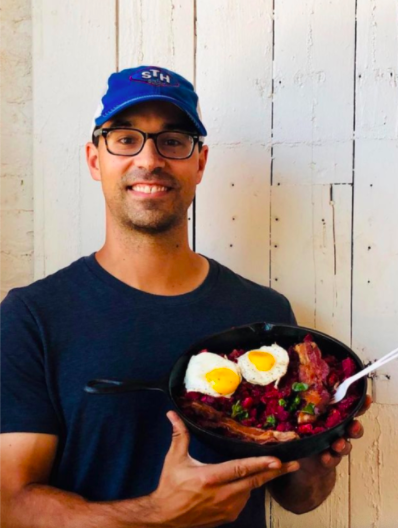 Wakey, wakey! Our Local Hash Guy, Ben James, is excited to announce his new line of red potato hashes coming to a freezer and Union Kitchen menu near you. Ben launched Stone's Throw Hash in August 2020 with a line of sweet potato hashes. He is now expanding his offerings with two exciting new flavors made with red-skin potatoes: Wakey Wakey Apple Bacon and Philly Me Up.
The expansion of Stone's Throw Hash's frozen hash offerings is a reflection of the success the company has experienced in the months since its launch. The new line of red-potato hashes continue to fulfill Stone's Throw mission of creating flavorful and healthy breakfast and lunch options with real, natural ingredients.
Ben started Stone's Throw Hash after he found out he was allergic to wheat. Between his full-time job and his growing family, he didn't have time to make flavorful, healthy, wheat-free breakfast and lunch options. And, when he went to the grocery store to find something that would fit both his lifestyle and dietary restrictions, he left empty handed. Ben knew there was an opportunity to bring just what he needed to market.
Ben started Stone's Throw Hash as a food truck in Baltimore, Maryland. He sourced all of his ingredients for his hashes locally. The food truck allowed Ben to get an idea for what consumers wanted so when he joined Union Kitchen's Accelerator in 2020, he could hit the ground running.
Ben's journey to success, however, hasn't been without its challenges. When Ben first started the company, he knew he had a delicious set of recipes. What he didn't know (yet) was that making something for yourself at home was very different than mass producing it.
Ben remarks, "When you make something individually for yourself or for your friends and family, single serving is a lot different than doing it at scale." After joining the Accelerator, Ben spent countless hours in the kitchen understanding how to scale his recipe.
Our team can attest: his countless hours paid off because he created a series of absolutely delicious, well-balanced recipes for his hashes. The new flavors using red potatoes are no exception. Wakey Wakey Apple Bacon is red potato-based hash with applewood smoked bacon, cardamom, and rosemary seasoning. It has a hint of apple cider vinegar to balance everything beautifully. The Philly Me Up is a play on philly cheesesteak with a delicious combination of red potatoes, steak, and seasoning.
Ben's advice for aspiring CPG entrepreneurs? Own your manufacturing. Having control and ownership of his manufacturing allowed Ben to test his recipes quickly. In turn, this also allowed him to get his product to market quickly. Once he was in market, Ben continued to improve his product based on the feedback he received.
Ben notes, "It's important to get feedback as quickly as you can on products. Then, being agile on that and adapting your product as you go is key before you start buying big amounts of packaging and stuff." Ben's ownership of his manufacturing is what afforded him the agility to refine his product. This also prevented him from needlessly losing money on large orders of packaging that would later need to change. Having this type of agility early on in your food business is critical for success.
So, you know what they say--early bird gets the hash…or that's at least what they say at Stone's Throw. Get your Wakey Wakey Apple Bacon and Philly Me Up red potato hashes soon at Union Kitchen stores and other retailers all around the DMV.