Accelerator Member Spotlight: Stone's Throw Hash
Learn more about Stone's Throw Hash, a company committed to sourcing local ingredients and giving back to local farms.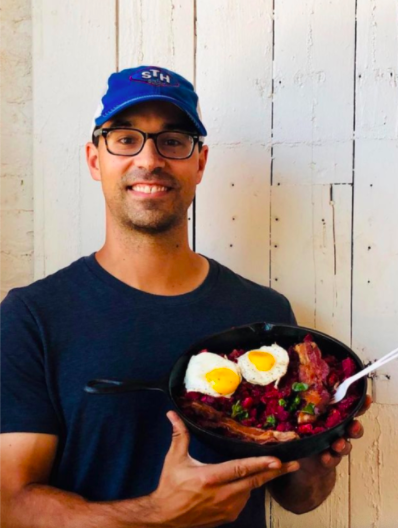 Introduce yourself and tell us a little bit more about you. What is your passion behind your business? My name is Ben James, and I started Stone's Throw Hash in May of 2019. I took the leap to be an entrepreneur after working for over 5 years in a number of brand management roles at Ocean Spray Cranberries and Nestle Purina Petcare. The idea for the business came when I took some courses at Tufts University in sustainable foods systems. I was blown away by the fact that only about 1% of food consumed in the U.S. came from farms within 400 miles of it's end destination. As someone who grew up in rural Virginia with neighbors who worked farms, this troubled me. I started playing with different products that could help change that statistic, and quickly realized my favorite gluten free breakfast food hash fits perfectly with a more regionalized supply chain (potatoes, eggs, meats, and other root veggies). I started sharing my hashes with friends and family and launched with a food truck in Baltimore in 2019.

Did you always know you wanted to start a food business?/What did you think you wanted to do professionally? I knew I wanted to start a business one day. That was a big reason for me earning my MBA from Washington University in St. Louis. I also knew I wanted to create a consumer product with a mission/purpose. I have always gravitated to brands with a purpose (e.g. Patagonia). It was not until I was at Ocean Spray that the realization came about that my entrepreneurial dream came in the form of hash!
What did you do before starting your business? I sampled the product with friends and family. Then wrote out a long business plan, and pressure tested the numbers with industry experts.

What convinced you to take the plunge? I pressure tested the idea with experts and colleagues, met with other entrepreneurs, and had a clear plan to launch. Additionally, I had saved up money, and made sure my family and I were on a sustainable financial path even without my salary from Ocean Spray. It was very important and helpful to have a life partner (my wife) who was fully on board with my dream and behind the business as well. We spent a lot of nights running through scenarios and ideas, and she has been a huge part of the business ever since.
What do you like about food? I have always loved food. I used to cook breakfast for my parents on the weekends when I was 8 years old. I love creative foods, with great natural and unique ingredients and flavors. What's not to love about food?!

What drew you to the food industry? I worked in marketing in the food industry for years prior to starting the business. I love the idea of making flavorful healthy food in a convenient format for people. It is something that I always struggled with personally. It's so hard to make food from scratch every day when you are working full time and have a family, and I found is a constant problem that needs to be solved.
What's the biggest challenge you've faced to date? There have been many, but the biggest challenge came early in my entrepreneurial journey. The company that I had contracted to outfit our food truck with equipment, went out of business without any warning. I had to come up with additional money to finish the truck and altered my financial projections and runway significantly. I was able to finish the truck with the help of our own customers through a Kiva loan, and have not looked back since!

Has anything surprised you about starting your food business? I have been pleasantly surprised by the welcoming nature of other entrepreneurs (big and small). It's a close knit group of people that are all wired in a similar way, and always happy to help other entrepreneurs. You have to go through the work, but there are so many people that can help you along the way. I have had so many other entrepreneurs help me along the way with advice, referrals, and overall encouragement, it has been overwhelming.
What's been the most exciting part of starting your food business? There is no better feeling than seeing someone buy your product. I love doing sampling events at our retail partners to interact with their customers and tell my story. When people relate to it, and go and buy our hashes. It's a wonderful feeling!