What Can You Learn From Selling at Farmers Markets?
Have you ever considered selling your products at a farmer's market? Farmer's markets can provide you with a wide range of newfound knowledge about your product, core consumer, and more.
In this knowledge article, we will discuss both the benefits and drawbacks of selling your products at farmers markets.
Consumer Feedback
Farmer's markets give you, the food founder, an opportunity to directly interact with your customers. As a CPG company, consumer interaction is limited as you are not selling your products directly to consumers. It is important to take advantage of interacting with your customers as they can offer feedback on your products.
Giving out samples is commonplace in farmer's markets, and also prompts dialogue between you and your customers. It is through these conversations that you can improve your product to better fit the needs and wants of your customers. Farmer's markets give you the opportunity to collect feedback on things like the taste, texture, packaging, and more. To learn more about what questions to ask consumers, visit our knowledge article.
Testing your Pricing
Typically farmer's market shoppers are less price sensitive. Because farmer's markets are primarily filled with local, organic products, it presents an opportunity for you to sell your products at the highest possible price.
The price you sell your products at a farmer's market should not be the end all be all, but rather a data point for figuring out your final price. By selling at farmer's markets, you can test out different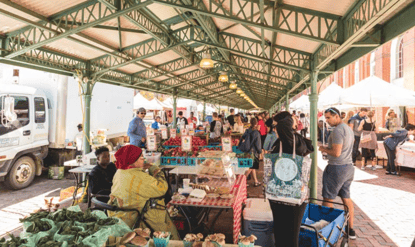 price points and get additional cash flow through the door. This is because the direct-to-consumer business channel has higher margins than traditional retail. In Phase One: Launch and Phase Two: Product Market Fit, additional cash flow is helpful to make forward leaning decisions to continue to build out the retail side of your business.
Testing your Product
Selling at farmer's markets is a great way to test the viability of your new products. If you are investing five to eight hours every weekend to sell your products, it should sell. If it doesn't sell, that is a telling sign that your product needs some readjusting. The reasons for it not selling could vary from a problem with the taste, texture, core consumer or more. Although this discovery may be initially discouraging, it will have saved you a lot of time and energy! The process of crafting a product can be costly, so it is best to make sure the product you are creating and selling is wanted in the market. It is also an opportunity to test out a new packaging design or to sell through old packaging that may have been used in a previous packaging run.
Marketing
A large part of getting your products on store shelves relies on being able to sell yourself and your products to buyers. This means you must become comfortable giving your PMP pitch to customers, buyers, and every other stakeholder in your business.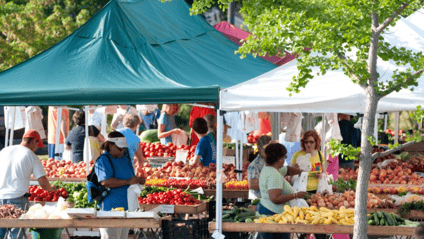 Talking with customers at farmer's markets is also a great way to spread the word about your company and build brand awareness. Make sure to mention where customers can find your products in stores to create continuous sales outside of the farmer's markets!
Downsides of Selling your Products at Farmers Markets
In Phase One: Launch and Phase Two: Product Market Fit, you will be working long hours perfecting your product and pushing sales. Time is limited and farmer's markets are labor intensive. The question to consider is, will spending multiple hours every weekend running a market be worth the investment? Likely not. There are a lot of other responsibilities once you are in the market, like checking in on existing accounts, hosting demos, and pitching new accounts that should take precedence.
Farmer's markets are also not scalable. Where do you think you will have the greatest opportunity for sales growth: a singular farmer's market or a retail chain with 300 stores? The sales ceiling for farmer's markets is lower than the ceiling for a large grocery chain. Your time and energy is better spent focusing on achieving product market fit in the local retail market so that you can effectively scale into conventional or mass stores as you grow.
Overall, selling your products at a farmer's market is a fun and an effective way to learn more about your product. By attending a farmers market, you can directly interact with your customers and gain feedback, test your margin capabilities, see if your product can be successful on the shelves, and learn to market yourself and your brand.