8myles Launches Gourmet Mac n' Cheese in Target's Frozen Aisle
WASHINGTON, D.C., May 10, 2021—Myles Powell's passion for food started in his family's kitchen, but today with new distribution in 240 Target stores across the Northeast, his 8 Myles Mac n' Cheese will reach millions of new home kitchens. With consumers purchasing more frozen foods than prior to the pandemic, this new frozen, hand-crafted, gourmet mac n' cheese offers unique flavor, comfort and convenience.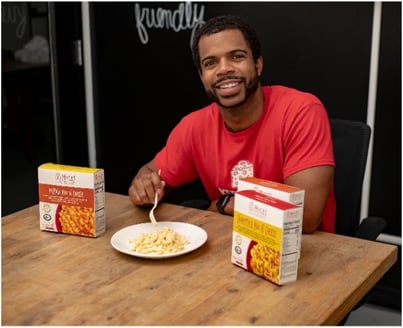 Three flavors of 8 Myles Mac n' Cheese—Buffalo, BBQ and Homestyle—are now available at Target stores across Conn., D.C., Del., Mass., Md., Maine, N.H., N.J., N.Y., Penn., R.I., and Va. All three flavors use a whole grain elbow pasta and are topped with a golden-brown breadcrumb crust. For the Buffalo flavor, the pasta is tossed in a bold buffalo and cheddar-jack cheese sauce, whereas for the BBQ flavor, the pasta is tossed in a creamy white cheese sauce with notes of smokey barbeque. To create the Homestyle flavor, the pasta is tossed in a hearty three-cheese sauce, made with artisan white cheddar, mozzarella and American cheese. Each of the three products retail for $4.49.
"Knowing that families, college kids and young professionals alike can enjoy my favorite mac n' cheese is thrilling," said Myles Powell, founder of 8 Myles. "When I started this company, I wanted to bring comfort cooking in a convenient way to people everywhere and to show kids that you can build a business with just a dream and a lot of hard work."
After participating in a Food Network cooking challenge show, America's Best Cook, in 2013, Powell accelerated his focus on developing a food business to bring his favorite foods to others. He started out developing BBQ sauces, but after making mac n' cheese for a few pop-up shops alongside his BBQ sauce, he realized how much people loved his mac n' cheese. He joined Union Kitchen to begin producing larger batches, freezing and packaging out of the accelerator kitchen. With distribution in a limited number of Whole Foods, Balducci's, Kings, Street's Market Cafés, and other retailers in the Northeast, 8 Myles is working to saturate the Northeast before expanding further. The company projects a 567% increase in sales this year alone.
"I made my first BBQ sauce in 2014 in the kitchen of my one-bedroom apartment in Harrisburg, Pennsylvania. Since then, it has been a lot of perseverance, connecting with people who could help me, and just hard work and late nights," continued Powell, who works at a construction company during the day and runs 8 Myles when he's not at his day job. "I hope when people eat my mac n' cheese they feel the comfort of a delicious home cooked meal that nourishes the soul."
About 8 Myles
8 Myles is a premium, comfort food brand focused on creating gourmet foods that are convenient, flavorful and made from clean ingredients. 8 Myles is known for its signature gourmet Mac n' Cheese, available in multiple flavors, in retail freezer sections across the Northeast. Founder Myles Powell grew up near Philadelphia and currently resides in the Washington, D.C. metro area. 8 Myles operates out of Union Kitchen, food accelerator focused on supporting DC-based food and beverage startups. Learn more at 8myles.com.